Carnival of Family Life - Wiener Whiner
Here's my submission to the Carnival of Family Life this week and guess what? I won
Kailani's
random drawing!! Cool huh? The rest of the submissions are at
Princess and the Pea.
When I saw the "Wienermobile" at our village fair, I asked the kids if they wanted to sing the jingle. Most of us grew up hearing the Oscar Mayer wiener song, but I guess the next generation hasn't.
Here
is my seven-year-old son
doing his very best to read the song lyrics while singing the jingle. Be sure to turn up your sound!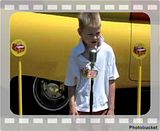 CLICK
HERE FOR WIENER WHINER
For his efforts, Mom splurged on carnival rides - just as soon as she composed her giggling.
See you for
Pass
the Torch Tuesday!
Oscar Mayer
wiener
jingle